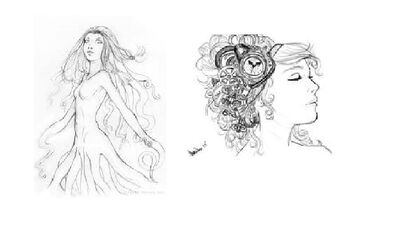 Hello! Sorry for the bug guys. As many of you are, I want to follow Rick Riodran's steps. I want to be a successful writer like he is. I am just 12 and I have a book for later in life. The title is 'Mystery back from the past'. It's about a little boy and a little girl. This girl was the guy "Matthew's" girlfriend. But she was kidnapped by an unknown substance. The kidnapper's hands and body was as smooth as metal, according to Michelle, the girlfriend. Matthew grew up very saddened. He swore he will never love any girl as long as he didn't find Michelle. When he moved to New Jersey, he went to a spa-hotel called 'Clearshine Spa and Hotel' and he met a dazzling little girl named 'Camille'. Unknown it was Michelle who got amnesia and got a new name, he had a crush on her.According to Matthew, this girl had the same sparkle blue eyes and brunnete hair. He almost fell in love, but Billy, Camille's boyfriend, snuck into their date and shoved Camille to his hand while he kicked Matt in the belly. He was sent to the hospital and Camille visited him. Despite he was sick, he had to smile at her confidently. Matthew states that her eyes and hair is the same with Michelle. He asks Camille if she has known anyone named 'Ewma' which is his nickname. It came from 'Ew' and 'Ma'. Camille replies she remembers that name, but she didn't know anyone named Matthew. Matthew faints faster than Camille could shout. She called the nurse and checked on him. The nurse advised he has fever. Camille moves on until Matt gets out on the hospital. Camille goes to London and finds evidence of her old life in every document. She sees a document named 'El Royale Misyel ye Matew' which is The Royal Michelle and Matthew' in a made up Language. She finds out nobody kidnap her, which leads her to a confusion. She sees an article called ' ehja Stog Lilia' which is 'The Ghost Lily' who is her enemy in winning Matt's heart. She remembers Matt told her a girl named Liliana liked Matt but when he refused, she committed suicide just to kill Michelle. She goes back and asks if Matt loved her. Matt confesses his own thing, and so does Camille. They get married and lead to another mystery. For some reason, Matthew's brother, Nico, gets stolen and dies. Nico gets possesed by the 'Evil Stone' his mom created by accident. Will matt be ever to save him?
Ad blocker interference detected!
Wikia is a free-to-use site that makes money from advertising. We have a modified experience for viewers using ad blockers

Wikia is not accessible if you've made further modifications. Remove the custom ad blocker rule(s) and the page will load as expected.